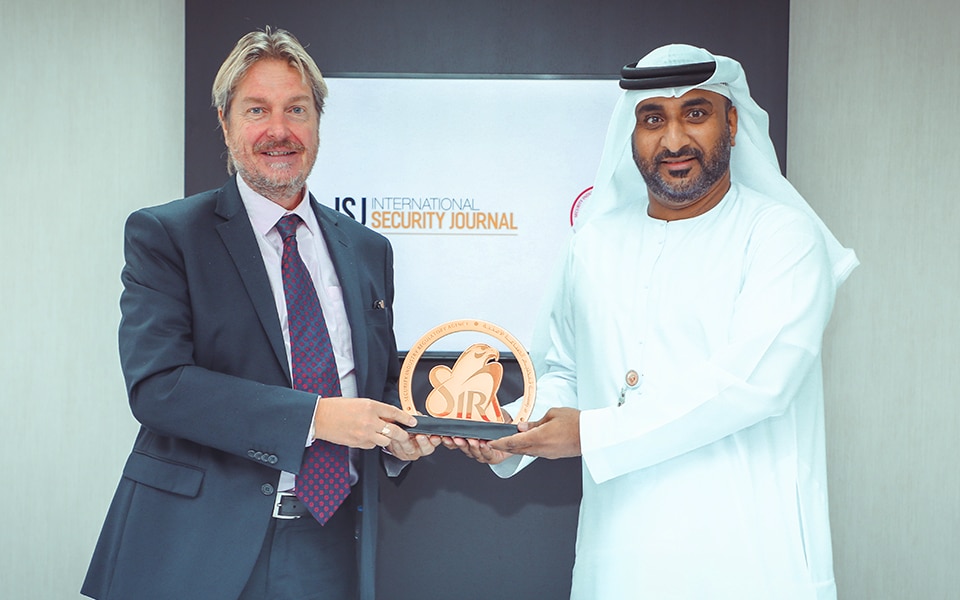 A memorandum of understanding between the Security Industry Regulatory Agency (SIRA) and International Security Journal (ISJ) was signed by His Excellency Khalifa Ibrahim Al Saleis, Chief Executive Officer of SIRA, and Mr. Ian Stokes, CEO of ISJ on 5 October 2021
The signing ceremony was held at SIRA's headquarters in Dubai and was attended by Eng. Arif Al Janahi, Director of Security Engineering at SIRA; Eng. Khalid Al Hammadi, Director of Security System Compliance Centre; Mr. Jamal Al Amiri, Director of SIRA Corporate Communication; Mr. Darren Fraser DIT (British Embassy), Ms. Sandra Spencer, ISJ's Sales Director in the Middle East.
This cooperation is intended to enhance the relationship and strengthen their partnership to meet their objectives in line with the comprehensive strategic plan of the government of the United Arab Emirates and the shared desire of both parties to providing distinguished services to their clients.
Within the framework of strengthening cooperation and communication in the different common grounds between both parties as well as the exchange of expertise in the many fields of the security sector as well as raising the level of professionalism and endeavouring to proactively foster the process of support, expansion and promotion in both SIRA and ISJ right across the various security and technical fields.
Al Saleis expressed his happiness with this cooperation and said: "SIRA has chosen ISJ as a partner because it is an international media platform for the global security industry that excelled in the provision of the most recent security related topics including news about the industry, individuals, projects, products and innovations that will positively affect the security market worldwide, in addition to presenting to the world through ISJ the achievements of SIRA in turning the city of Dubai to one of the safest cities in the world."
Receive the latest breaking news straight to your inbox