Exclusive: Time for surveillance to step up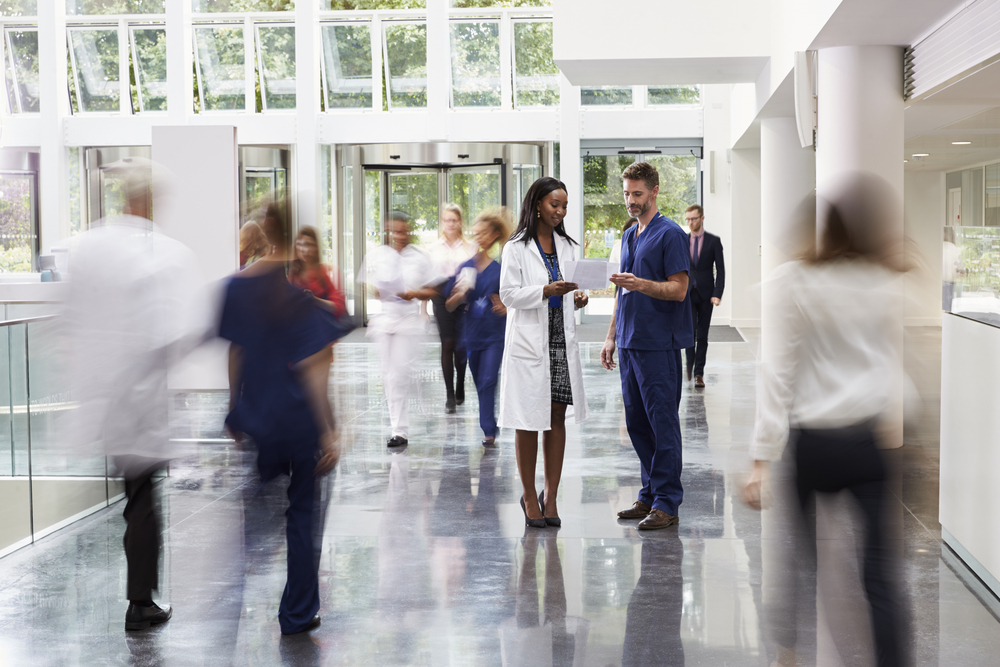 Jamie Barnfield, Sales Director, IDIS Europe explains how the latest surveillance technology can reduce pressure on healthcare staff.
As organisations begin to feel the full effects of the COVID-19 pandemic, with staffing pressure on core services – in healthcare, in logistics, retail and other essential service settings – the efficiencies that we've been developing through innovation in the surveillance sector will come into their own.
For many years now we've been thinking about 'worst case scenarios', helping our customers to strike a delicate balance between streamlining their operations and, at the same time, reducing risks.
Across the industry, vendors and systems integrators have competed to find new tools and technologies that let end users do more with less: securing their vulnerable assets, managing people more safely, improving situational awareness, relieving pressure on their wider operations, whatever those operations happen to be – delivering goods or delivering lifesaving care services. And as an industry we've known that it's important to plan for the worst, so we've tried to design and test our solutions to make them more robust and easier to use in times of stress.
It's clear now that increased stress is what we are facing. In high-pressure work settings, our systems will be put to the test and will need to prove their worth.
Keep the system running
In the NHS, as in healthcare systems around the world, the challenge will be to keep operations running, with increased demand and potentially fewer staff. One recent estimate suggested that at peak pressure, up to a fifth of NHS frontline staff may be affected by the virus and/or self-isolating as the infection spreads.
In this context, maintaining security and ensuring that working environments remain safe, will be crucial. Here are some ways that video surveillance solutions will help:
When security managers and team leaders are in self-isolation, how can they keep leading their operations?
Remote applications and client software can make it practical for them keep working even when isolated. The latest mobile apps can give them everything they need to run their own satellite video control operations, wherever they are. These can give them VMS-level functionality that includes live view, playback, searching, bookmarking, PTZ control, mobile de-warping for 360-degree fisheye cameras, event notifications and more.
Team leaders at many sites have already become accustomed to using these applications. Now they will be needed as never before.
To further streamline command, control and information sharing, VMS can now be easily set up with simple rules to allow targeted notifications to be sent to individuals and groups, via SMS or email.
As wider operations also come under pressure, security staff may be called on to provide back-up help: in supermarkets, for example, officers may need to interact more with customers during times of peak demand to ensure that people don't attempt to stockpile when rationing is introduced, that queuing remains calm, that aisles don't become littered with packaging or spilled goods, that stampedes do not develop – all while paying attention to the usual problems of shrinkage.
Again, the video capabilities we've been deploying in recent years will prove their value.
Using deep learning
Solutions making use of the latest deep learning advances can take pressure off security teams while still improving surveillance outcomes.
Deep learning analytics can provide accurate and reliable detection of events such as falls, loitering or trip-zone and line-crossing and they can be used to give automated alerts. So even if security officers are busy, their video systems will still be working away in the background to maintain essential monitoring functions and to alert them to incidents, when necessary.
Accurate detection with fewer false-positives means better and more targeted responses – all helping to maintain security team effectiveness.
And it's not just security teams that can make good use of video surveillance. In healthcare settings we've seen how our systems have been used, over the last couple of years, by clinical staff, administrators and reception teams.
We've deployed video systems that have allowed medical teams to monitor and review care delivery in a way that maintains efficient operations in their own wards and areas of responsibility. They've been used not just to maintain security but to review and improve clinical practice.
More than security
The quality and reach of surveillance coverage are now far better than only a few years ago. For example, at NHS sites we've used the latest ultra-definition 360-degree fisheye cameras to provide extensive video coverage of wards, corridors and other priority areas in the most economical way possible, because a high definition 12MP IR fisheye model with de-warping right out to the periphery can provide the same surveillance coverage in all lighting conditions as two or three fixed lens models.
And these systems come with easy-to-use VMS that's designed to save time and improve care outcomes. As clinical staff come under pressure their video systems will continue keeping a full video record of everything that happens, should evidence be needed for review.
Using metadata will also help site managers to cope with changing footfall pressures, with rapid and easy-to-use heatmapping functions giving insight into the way people move around in busy locations during times of high demand.
These capabilities have been in demand in the retail sector for some time, because understanding customer behaviour and shopping has been a high priority for stores looking to adapt to changing shopping preferences. Now that the pandemic is imposing altogether different pressures, the same capabilities may be put to another use: the risks posed by crowd control failings can be managed by staff on the ground watching what's going on, but video heatmapping can give an overview, revealing pinch-points and recurring hotspots that hard-pressed frontline staff may overlook – early warnings that may allow problems to be pre-empted.
As essential operations come under pressure in healthcare, retail and other key services, other new risks may emerge too.
At the time of writing the situation is changing rapidly and by the time you read this it will have changed further too. But whatever happens, where we have video surveillance systems that are flexible and capable, they should make it easier to adapt to this 'new normal'.
This article was published in the April 2020 edition of International Security Journal. Pick up your FREE digital copy on the link here
Receive the latest breaking news straight to your inbox