Veridos eGates to enhance safety and security at Bangladesh's International Airport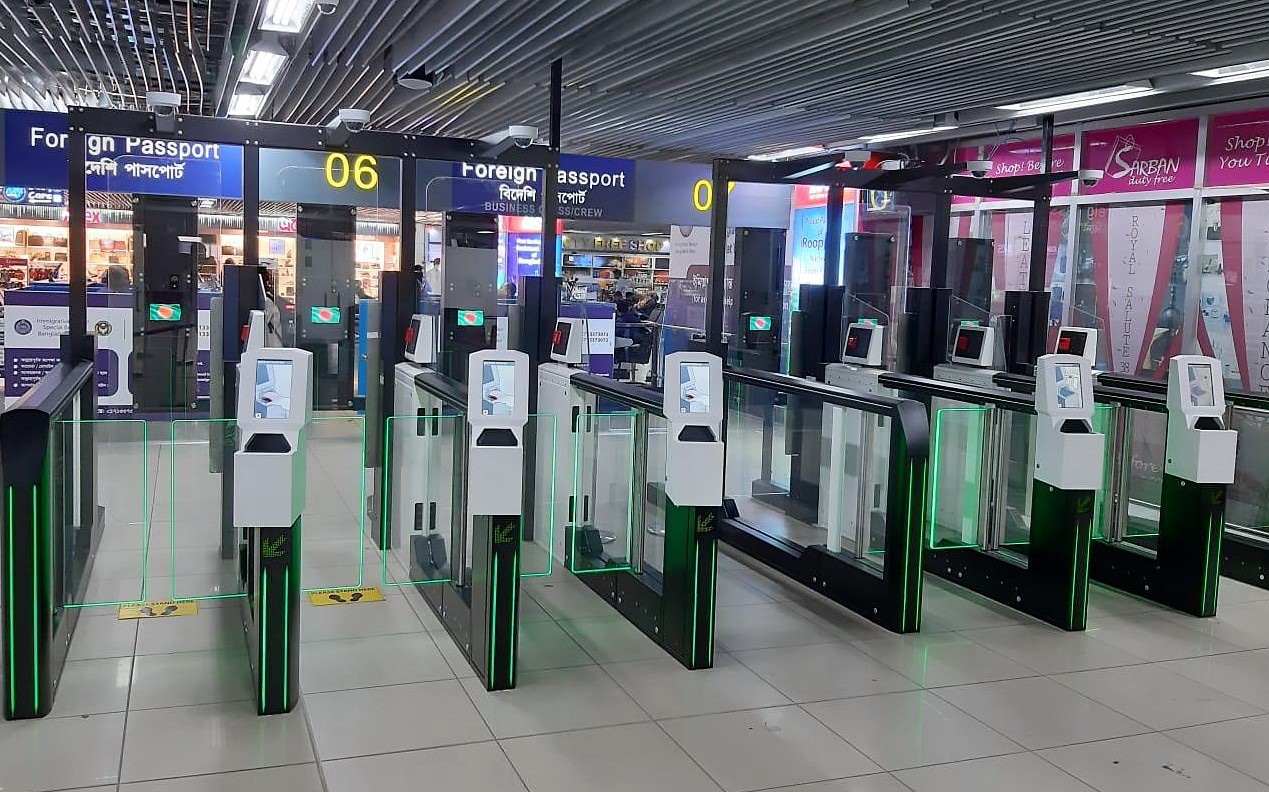 In late June, Asaduzzaman Khan, Honourable Minister of Home Affairs of the People's Republic of Bangladesh, officially opened the country's first eGates at the capital's International Airport. The implementation of the state-of-the-art automated border control (ABC) solution is part of the country's overall modernisation of the next-generation electronic passport infrastructure. Veridos, a provider of integrated identity solutions, provides the eGates as well as the whole value chain for tamper-proof ePassports.
ABC systems – known as eGates – are the ideal solution for efficient and secure identity document verification. The solution reduces the time taken to check passengers while also ensuring high security during the verification of travel documents.
During an inauguration ceremony on 30 June, Asaduzzaman Khan, Bangladesh's Minister of Home Affairs, kicked off the official use of 12 eGates at the departure terminal and three eGates at the arrival terminal of Hazrat Shahjalal International Airport. Altogether, the plan is to install 28 eGates at the country's largest airport and a further 22 eGates at the two other international airports and at two land borders in the country. With the support of a local partner, Veridos was able to conduct training sessions for more than 50 border control officers to guarantee smooth operation of the new eGates.
The new border control system supports seamless and contactless travel – crucial in the COVID-19 pandemic. eGates decrease the amount of human interaction; the traveller only needs to place the passport below the eGate screen on the reader. All other steps of the process are completely contactless. After the passenger steps into the eGate, their face is scanned to see if this biometric information matches the image stored in the chip of the electronic document. In Veridos eGates, the camera to capture the face is installed in the exit door to make the verification process intuitive and extra fast.
"In addition to a high-tech ePassport production infrastructure, we are honoured to support Bangladesh with our automated border control expertise," says Veridos CEO, Andreas Räschmeier. "The unique design, the high-quality material and the established underlying system make our eGates the most modern border control solution on the market. The ability to verify identities within just 14 seconds via eGates will soon lead to a welcome reduction in waiting times."
Receive the latest breaking news straight to your inbox