Exclusive: Deploying video to tackle new weather risks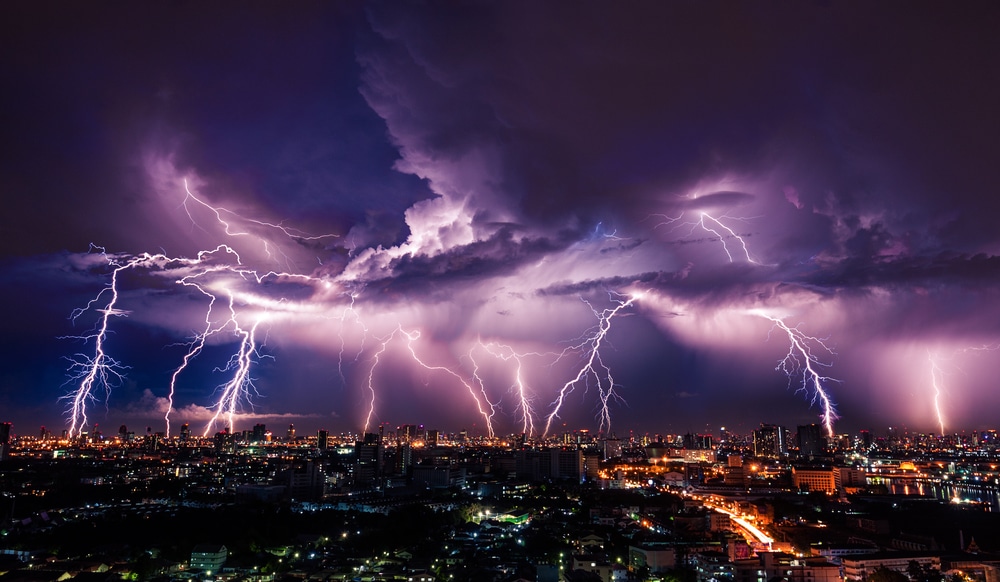 Jamie Barnfield, Senior Sales Director, IDIS Europe explores the potential of video tech to build resilience against severe weather events.
After a year of extreme weather events, it's hardly surprising if the attention of corporate risk and security managers has turned to the unprecedented challenges that lie ahead.
The Texas freeze in February left more than ten million people, including IDIS America staff in Dallas, without electricity for several days and coping with cascading effects on other services including drinking water treatment and medical services. Economic losses from lost output and damage are estimated to be US$130 billion in Texas alone, according to a report published in Energy Research & Social Science.
Over the summer we saw devastating flash floods in Europe and China, record-breaking 'heat domes' over the northwest US and Southern Europe, causing numerous localised extreme weather incidents – and records broken – some that didn't even make international headlines.
These soaring temperatures have caused sea and ocean surface temperatures to rise. The air above these seas contains additional moisture that is now causing storms to be more intense and longer lasting.
Scientists had warned of continued weather pattern disruption through late summer, but it seems that few people were prepared for the impact that is continuing to unfold. The extreme weather of 2021 is set to cost the US more than US$100 billion.
Tennessee was hit by deadly flash floods then, almost immediately, Hurricane Ida made landfall in Louisiana. Ida merged with warmer air as it tracked 1,000 miles from landfall to dump more than 9 inches of rain on parts of the northeast, including 3 inches in New York's Central Park. That broke records already set by Storm Henri just two weeks earlier.
At the time of writing, California continues to battle wildfires that are on track to be the state's worst on record. And Storm Nicholas has slowed over Texas dumping a foot of rain on Houston. Current forecasts predict Nicholas could stall over the already storm-battered Louisiana, bringing life-threatening floods across the Deep South.
Weather patterns
Extreme weather events have always happened, but they are becoming more frequent and less predictable as weather patterns destabilise. This should come as no surprise, as it's what climate modelling predicted.
And be in no doubt: the same models warn that the instability will get worse as temperatures continue to rise.
For every organisation, as for every individual, this means old assumptions about the risk profile of any given location should no longer be relied on.
Communities located close to rivers, or built on flood plains, are clearly at greater risk than they were in the past – but so too are areas that have never been a flood risk at all, because flash flooding caused by more powerful storm systems can hit any location.
In July, a system of storms from the Atlantic caused flash flooding in Benelux, Switzerland – and particularly Germany – on a scale not seen before. It devastated communities, disrupted critical infrastructure and caused hundreds of fatalities.
It's worth noting that this same storm system had also passed over London just hours before but the damage to one of the world's leading financial centres was much less and there was no loss of life, only by chance: the clouds had not been blocked by high pressure, so they moved away.
Wildfires are a natural phenomenon, but they are becoming more frequent, more widespread and more intense. In its fourth assessment report, the Intergovernmental Panel on Climate Change (IPCC) warns that the annual window of high fire ignition risk will increase by up to 30% as summer temperatures get warmer and drought conditions spread. In July, air quality in Manhattan reached dangerous levels as a result of wildfires burning 2,000 miles away in the west – it surged to 157 in the air quality index, well above the 100 level where health is considered to be at risk. Similarly, in August, lingering wildfire smoke prompted an air quality advisory for the San Francisco Bay Area. Vulnerable people, including pregnant women and the elderly, can experience breathing difficulty in these conditions.
Adapting to these new risks – building resilience – is going to become an increasingly important task for security and facilities managers. The safety of staff and site visitors is likely to become a bigger part of their job, as well as enhancing protection of critical assets and property.
We're already starting to see the shift, with security managers assessing climate risks among the main threats to their organisations. By identifying, mitigating and preparing for the impacts of disruptive climate events they can reduce disruption and protect the continuity of critical activity.
Utilising video technology
Tried and trusted approaches to risk reduction, developed with other threats in mind, can be applied – for example, today's generation of increasingly powerful video technology can help to build resilience against extreme weather events.
Although highly accurate weather forecasting can warn when torrential rainfall is likely, it cannot predict the exact location of flash floods nor confirm what is happening on the ground in real time, in the way that remote video monitoring can.
AI-enabled video analytics can also be configured up to provide immediate, automated early warning when water accumulation reaches a particular level in any given location. The same analytics used for line-cross detection can be adapted to detect rising water levels at key transport junctions, reservoirs, critical infrastructure sites, hospitals, schools, or any premises where people need to be warned about flooding.
It's encouraging that users no longer need to worry about the challenge of false positive alarms when adopting video analytics as deep-learning algorithms have pushed accuracy much higher. This is especially true when AI-powered analytics are used as part of an end-to-end system with all its elements optimised to work seamlessly. For example, where VMS is fine-tuned to work with UHD cameras such as 4K fixed lens or PTZ models to enable up to 98% accurate alarms and notifications.
And the AI capabilities we have now are only the start. Over the last year, surveillance and other security tech vendors have brought to market technologies to combat the challenges of COVID-19 – including powerful remote surveillance capabilities via smartphones and tablets and highly accurate AI solutions to support people counting, social distancing, mask detection and access control and visitor management that can be leveraged for contact tracing. Today IDIS, along with many organisations in the security industry, are turning their attention to climate change.
Initiating a response
IoT sensors can collect vast amounts of data, yet they are not always reliable in wet or dusty locations, while surveillance cameras are already designed to withstand an array of weather conditions as well as extremely low and high temperatures. This means video will prove not only a valuable visual monitoring and verification tool, AI video is also on track to be a powerful asset in the fight against climate change. And just like in security and safety applications, surveillance cameras can easily be integrated into third party systems and connected to specialist sensors to allow remote users to receive highly accurate notifications with the capability to quickly view live and recorded footage, verify a situation and initiate faster responses.
Already scientists are trialing AI-powered video analytics alongside IoT devices to detect an array of environmental conditions – from drought to ensure the future resilience of agriculture, to monitoring the colour of trees to understand uptake of carbon dioxide in forests, early smoke detection to pre-empt wildfires, to notifications of elevated temperatures of plant roots in wetlands that can lead to carbon being released into the atmosphere, through to the impact of urban air quality deterioration.
What's more, surveillance cameras have already started doing much the same for similar applications. We have ultra-HD cameras being used in tandem with seismology and gas sensors to monitor active volcanos from distances of several kilometres, which are helping to provide early warning to communities that might be affected. Volcanic eruptions are notoriously hard to predict yet monitoring them is simple when compared with watching out for extreme weather events. These, as we are now seeing, can occur anywhere, any time.
But as AI video develops, processing power continues to increase and pricing becomes even more affordable, it will undoubtedly be a vital element of building preparedness as it will allow more widespread monitoring of vulnerable locations. And developments in solar power, Power over WiFi (PoWiFi), next generation solid-state batteries and investment in stable communications technology, such as 5G, means that cameras can be more easily adopted across large urban areas as well as remote locations where weather events may begin unseen, but have impacts hundreds or thousands of miles away.
Gaining early warning of extreme weather events and acting on those warnings, will become increasingly vital – because even if the political leaders meeting at COP26 in Glasgow manage to curb greenhouse gas emissions, the disruption we are now seeing is going to increase.
This article was originally published in the October 2021 edition of International Security Journal. Pick up your FREE digital edition here
Receive the latest breaking news straight to your inbox