Exclusive: Suez Canal incident highlights supply chain security risks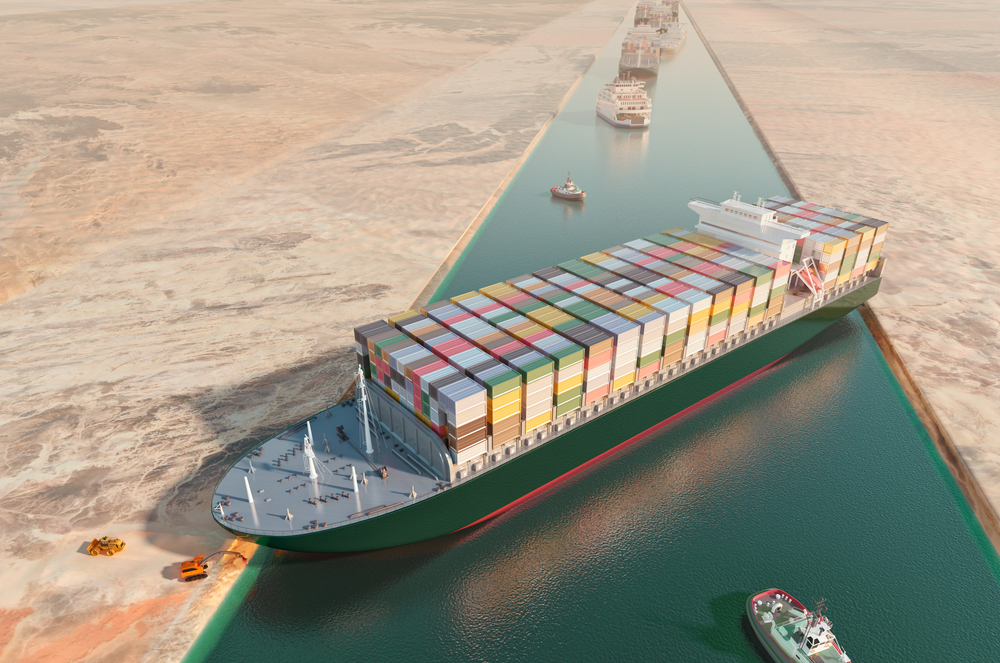 In February 2020, the National Hockey League (NHL) – the North American men's professional ice-hockey league and the largest ice-hockey league in the world – reported that clubs were experiencing a shortage of hockey sticks. The news, akin to the Premier League in the UK reporting a shortage of balls, was the result of COVID lockdowns being enforced in Wuhan which was impacting manufacturing as well as the supply chain into and out of the region.
Over the past decade, equipment providers had reorganised manufacturing so that nearly 75% of all sticks used in the NHL came from Chinese factories based in Wuhan. The delays were so significant that many major clubs were advising players to be gentle with equipment – players typically use 2-3 sticks a game and close to 200 over a season. With that, a US$4.5bn sports and entertainment industry risked being crippled by events in China.
On 23 March, the Ever Given, one of the largest cargo ships in the world, became wedged sideways in the Suez Canal. The ship was freed after six days, although the time taken to clear the resulting 'traffic jam' at the canal was another week. The events compounded concerns around global supply chains and led to analysts warning of long-term effects for world trade.
Perfect storm for the global supply chain
Around 12% of global trade flows through the Suez Canal on ships like the Ever Given. Lloyd's List estimates that more than US$9 billion worth of goods passes through the waterway each day.
As noted in a New York Times article from 29 March, the fact that "one mishap could sow chaos from Los Angeles to Rotterdam to Shanghai" underscored the extent to which modern business has come to revolve around truly global supply chains.
Andy Needham, Managing Director of Approved Food, says the Suez incident is just the latest in a long list of factors adding complications to the global supply chain. Needham says: "Brexit, COVID-19, the Ever Given stuck in the Suez Canal – it's a perfect storm."
As noted in the Harvard Business Review article "The Latest Supply Chain Disruption," between the pandemic, container shortages, winter weather, factory fires, the blocking of the Suez Canal and other logistics woes, things are messy and the list of companies impacted is a who's who of the largest and best known businesses in the world.
Security risk in the supply chain
Current supply chains have small margins and are tightly run to meet supply, satisfy demand and ensure profitability. However, with such tight strands multiplied by several interconnected links, supply chains are uniquely more vulnerable than ever before. Minor issues can wreak havoc. As the adage goes, a team is only as strong as its weakest link, is particularly salient for global supply chains these days.
In a 2012 article for Forbes, Milosz Majta, a senior business analyst at the software company, Aspiro notes that just as there are benefits and costs of globalisation, there are similar pros and cons of a global supply chain. Companies need to manage the related risks.
Mitigating supply chain risks
As a 2019 article by McKinsey "A practical approach to supply-chain risk management" notes, at the heart of supply chain crises is a common theme—the lack of robust processes to identify and successfully manage growing supply-chain risks as the world becomes more interconnected.
While it can be challenging to identify where the next business disrupting event will occur, there are steps that enterprise security leaders can take to reduce the impacts and support resilient organisations continuing to operate.
Intelligence programmes
Mitigating business interruption risks requires companies to anticipate challenges and adopt protective measures. Failure to do so can put unnecessary stress on a business. Actionable intelligence is knowledge that allows a business to mitigate an attack, or to reduce the impact of a loss. Effective intelligence is timely, clear and action­able and is delivered in a form that stakeholders understand. Effective intelligence can assist decision-makers in identifying risks early so that necessary measures can be implemented, which may include adapting business critical processes to avoid disruption.
Risk assessments
Ensuring the supply chains are included in the risk assessment process is key, but it's vital to ensure thateach node of the supply chain—suppliers, plants, warehouses and transport routes—is assessed. Risks should be registered and tracked on an ongoing basis, with the relevant stakeholders from across the business and partner organisations included to support the assessment.
Institute governance and regular review
Instituting a robust governance mechanism to periodically review supply chain risks is a key step to improving the resilience and agility of the supply chain.
Insurance coverage
Additionally, insurance solutions can also play an important role by transferring the risk associated with supply chain interruption. While security leaders are often not involved in the decisions behind purchasing insurance products, they'd be well advised to understand what solutions are in place and what, if any, support provisions their insurance products offer. These could include a risks management allowance, training funds or a third-party audit capability among other things.
Resilient supply chains are vital to resilient business operations
Several global events have impacted business operations in the past year, by disrupting the global supply chains many now rely on. From hockey sticks, to semiconductors, to PPE, companies and consumers have felt the effects and the vulnerabilities of the links in the chains.
As businesses continue to operate on a global scale, it's important to both understand and secure the supply chain and security leaders have a key role in doing this. In doing so, they can again demonstrate their value to the business.
By James Morris, Head of Security Services, EMEA at Aon
You can connect with James here
Receive the latest breaking news straight to your inbox