Securiscape working to protect Blenheim Palace's Christmas Lights trail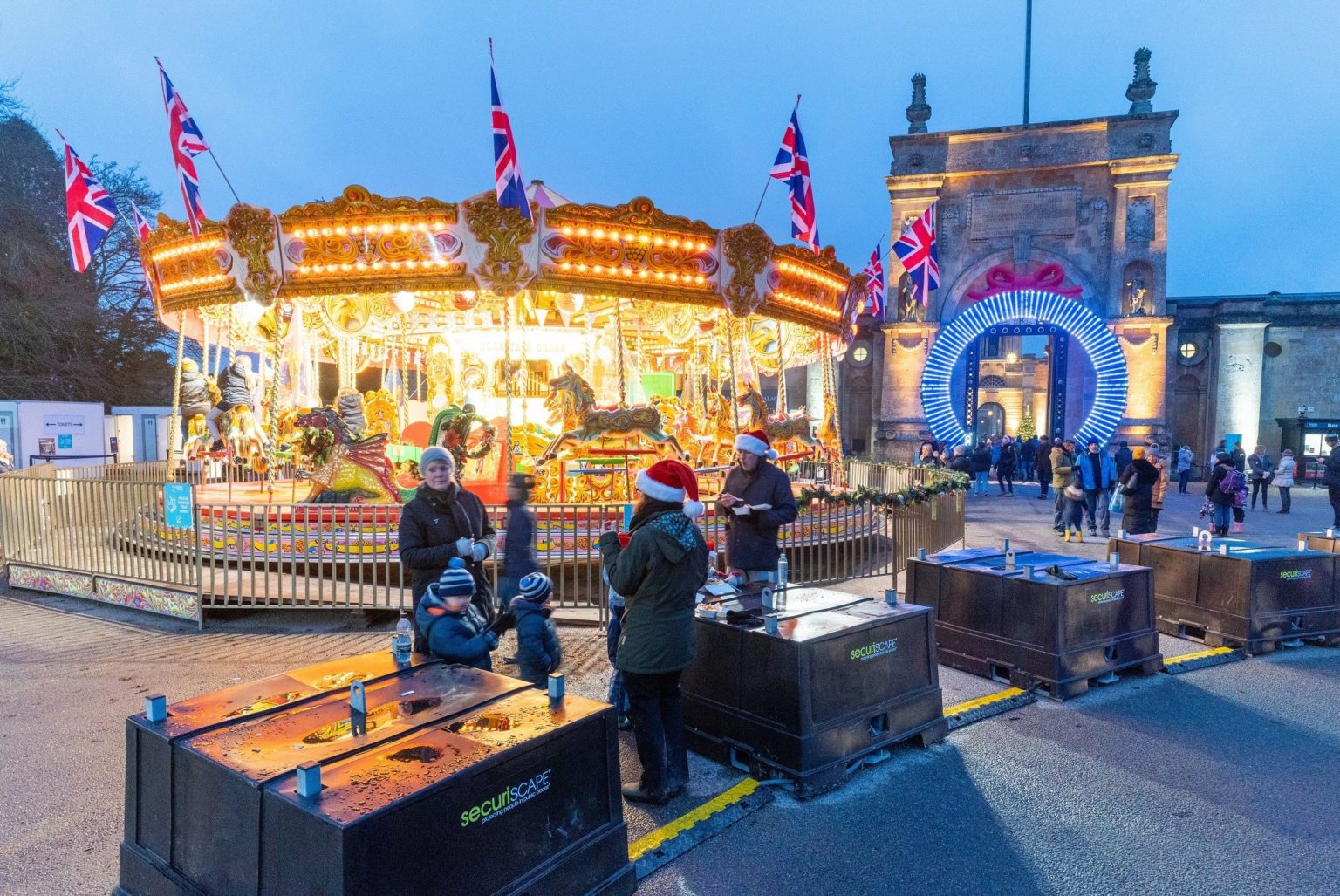 Securiscape – Derbyshire-based manufacturer of outdoor security devices – has played its part in helping one of the country's largest Christmas celebrations go ahead safely by supplying and installing a barrier specifically designed to protect outdoor events.
Securiscape has deployed its SecuriPods vehicle mitigation barriers to protect Blenheim Palace's spectacular Christmas Lights trail, which opened for business at the start of the month and is the highlight of the Oxfordshire stately home's festive calendar.
Christmas Lights trail
Blenheim Palace's Christmas Lights trail – which runs until January 10 2021 – is the latest in a growing number of outdoor events to benefit from the peace of mind of having Securiscape's SecuriPods in place, following the likes of Hackney Carnival and the Nottingham Beer and Cider Festival.
The Christmas Lights trail has been created using more than one million light bulbs, which have transformed the park and gardens into a Winter Wonderland. The highlights include a light show in the Great Court, Heart of Stars, which uses refracted beams to create a swirl of patterns.
There is also Blue Neuron, which uses heat-treated plastic bottles to scatter blue light through the branches of the trees, as well as a fairground which features a traditional merry-go-round and is one of a number of additional attractions for visitors.
SecuriPods by Securiscape
Capable of being installed and removed within minutes, the SecuriPods consist of steel frameworks which are each surrounded by a tough polyethylene outer casing and are linked together by cabling.
Despite being freestanding on the road surface, they are capable of bringing a 7.5 tonne truck to a controlled stop without impeding the progress of pedestrians, people with pushchairs and wheelchair/mobility scooter users who can simply pass between them.
Mark Stone, Managing Director of Securiscape, remarked: "Safety is the watchword in 2020 for events all over the country and we're proud that our SecuriPods are helping to keep visitors to Blenheim Palace's amazing Christmas light show safe this year.
"Our pods are the lightest and easiest to transport products of their type in the marketplace and this helped us to fulfil this order, which came in with a very tight turnaround time.
"Because of the way the technology works, the longer the line-up of SecuriPods the more effective the protection, so since this configuration has quite a number of them arranged in a row, this is definitely the safest installation that we have ever put in place."
To find out more about Securiscape and how they are protecting outdoor events with their products, visit: https://www.securiscape.co.uk/
Receive the latest breaking news straight to your inbox