New Network Video Recorders ensure users achieve maximum benefit from Wisenet AI cameras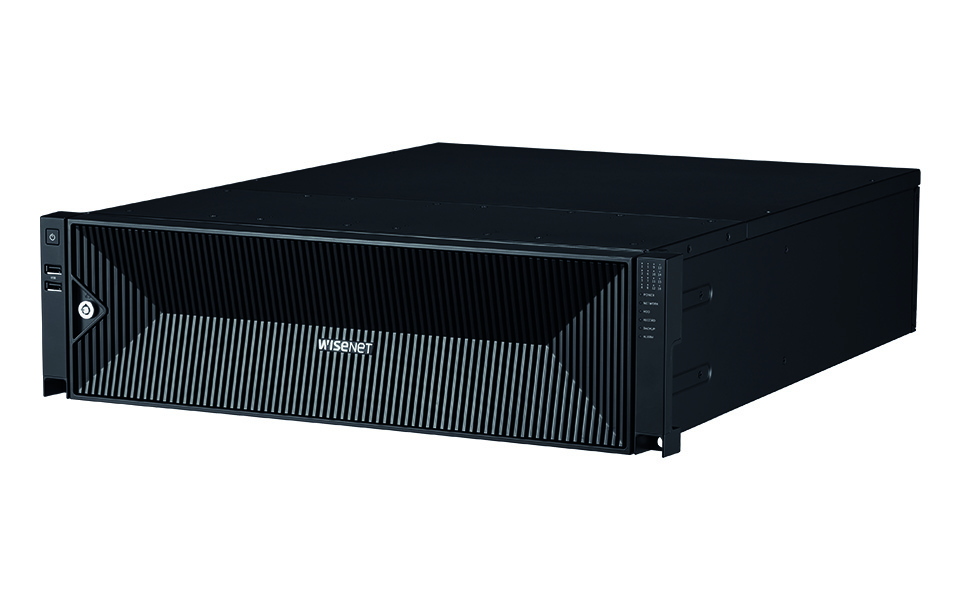 The opportunity for businesses to take full advantage of the meta-data captured by AI cameras has been significantly enhanced with the introduction of three new Wisenet NVRs.
The feature-rich NVRs, which offer up to 400Mbps network camera recording, are able to read the AI metadata, enabling operators to quickly and accurately search video for objects and attributes associated to them.
Introduced at the same time as the 64 channel XRN-6410B4 and sharing the same features, the Wisenet XRN-3210B4 has 32 channels, whilst the 64 channel XRN-6410DB4 NVR is also equipped with a dual switched-mode power supply (SMPS), to ensure continuity of recording for mission critical applications.
The three NVRs are compatible with all Wisenet AI cameras which have license-free Deep Learning AI video analytics onboard. The analytics simultaneously detects and classifies various object types, including people, vehicles, faces and license plates and is supported by Wisenet AI algorithms. Unique to Hanwha Techwin, these identify the attributes of objects or people, such as age group, gender or colour of the clothing a person is wearing.
The attributes are saved as metadata on the NVRs alongside the images captured by the cameras, enabling users to quickly search for specific objects or incidents. The algorithms are even able to recognise if a person is wearing glasses or holding a bag.
Business intelligence and crime prevention
Together, the NVRs and AI cameras offer a high degree of detection accuracy, whilst minimising false alarms. As such, they provide control room operators and security personnel with a powerful tool to identify and respond quickly to any suspicious activity. They also offer businesses and in particular the retail sector, with the opportunity to capture and analyse business intelligence, which will enable them to review customer demographics, gain a greater understanding of customer behaviour and improve the customer experience. In this respect, because AI can handle extremely busy and dynamic scenes, it is much more suitable for retail environments than traditional video analytics.
WiseStream II
In addition to H.265, H.264 and MJPEG, the new NVRs support WiseStream II, a complementary compression technology, unique to Hanwha Techwin, which dynamically controls encoding, balancing quality and compression, according to movement in the image. When WiseStream II is combined with H.265 compression, bandwidth efficiency is improved by up to 75% compared to current H.264 technology.
Easy to configure
Installation time is minimised with the ability for engineers to remotely connect to the NVRs via a smartphone or tablet without having to set up a complex network, by using P2P and unique QR product codes. In addition, the NVRs can be easily and quickly configured to match an end user's requirements via an updated Wisenet user interface and with the help of a new installation Wizard.
Automatic Recovery Back-up
If communication between one of the NVRs and a Wisenet camera equipped with an SD card is disrupted, Automatic Recovery Back-up (ARB) will facilitate the transfer and seamless storage of the images stored on the SD card when the network connection is restored. This provides continuity of recording and negates the risk of what could be valuable video evidence being lost.
"Our AI cameras, supported by these new NVRs, are allowing us to offer future-proof video security solutions that deliver a level of functionality which would have been difficult to imagine just a few years ago," said Uri Guterman, Head of Product & Marketing for Hanwha Techwin Europe. "They are a clear demonstration of Hanwha Techwin's commitment to harness the power of AI technology and in doing so, enable our customers to achieve maximum value from their video surveillance systems."
Receive the latest breaking news straight to your inbox