Exclusive: Meeting the security challenges of the next decade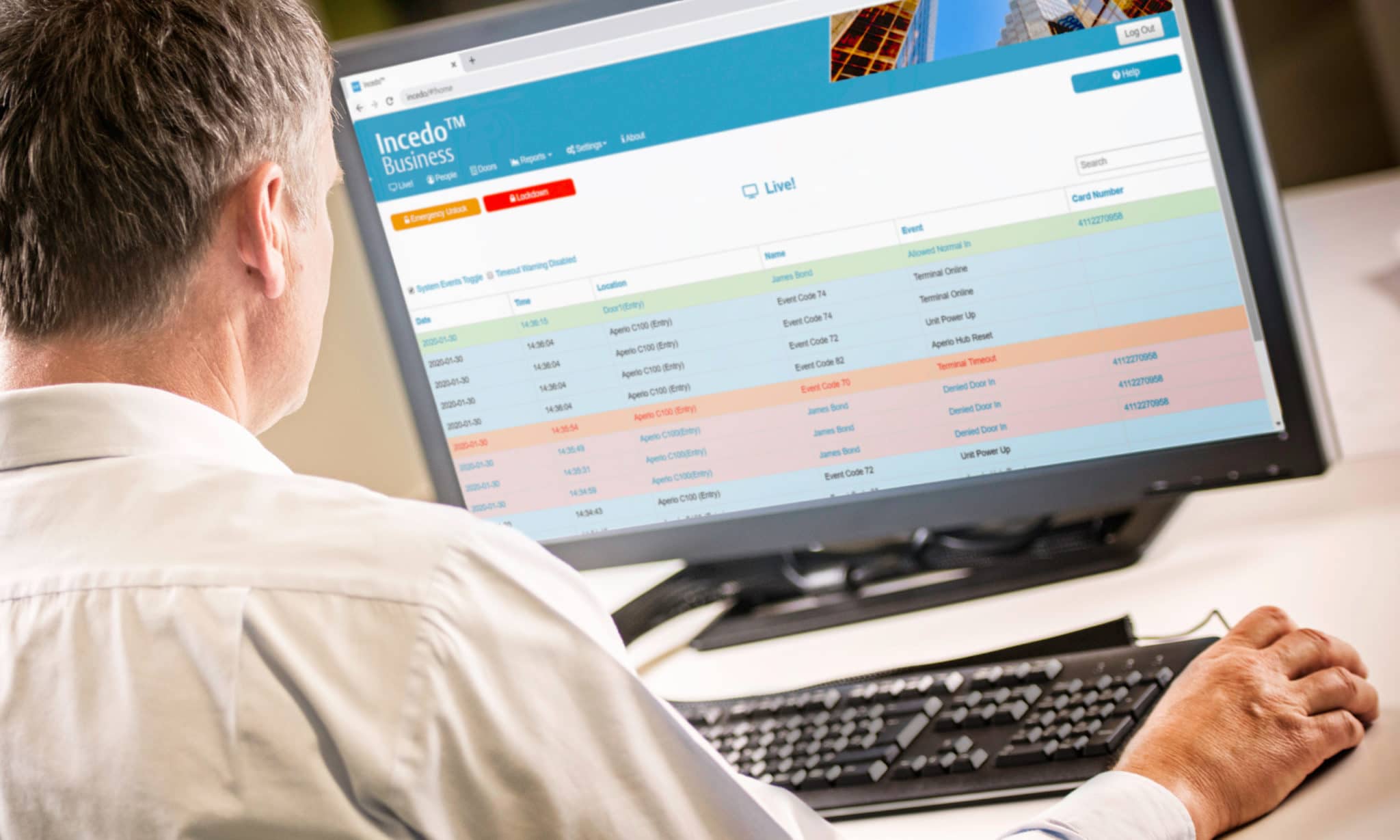 Platform-based access management from ASSA ABLOY Opening Solutions is helping businesses prepare for the security challenges that lie ahead.
As the way we live and work continues to change, people, data and goods move more fluidly than ever. It already seems less useful to think about building management functions in isolation. Rapid urbanisation, technological change and shifting patterns in global working put these systems to use simultaneously, every day. How can a new generation of security technology address this?
In one recent survey of access control professionals, 95% of respondents judged "system integration with other building/security management functions to be 'somewhat' or 'very' important". Technology and system silos will become a thing of the past. But this idea of "integration" extends further: it impacts everything we expect from the next five years and beyond in access control.
One prominent example is sustainability. The European Council for an Energy Efficient Economy estimates smart building technology will reduce energy use by at least 15%. Automated, integrated controls are a key ingredient.
"We are on the brink of significant change in access control. In fact, change beyond access control," says Stephanie Ordan, VP Digital and Access Solutions at ASSA ABLOY Opening Solutions EMEA. "As a manufacturer — a leader in the security market for many years — our challenge is to develop solutions which create a seamless experience for security managers and building users. Genuinely joined-up, intelligent solutions designed to meet the changing needs of our customers."
An ecosystem approach to access and security management
A single, all-encompassing security platform can deliver this connectivity and convenience. It can keep premises secure and filter access to manage the ever-changing movement of people, while protecting investment by creating a dynamic base on which future security products and technologies can interoperate.
"This is the approach we adopted for the new Incedo platform from ASSA ABLOY Opening Solutions," adds Stephanie Ordan. "With Incedo's modular ecosystem approach, customers simply choose the security hardware and credentials they need and the appropriate management system option."
Incedo adopters pick from a growing range of Incedo-enabled security and access control hardware. Road-tested, award-winning ASSA ABLOY wireless digital locks and wired ASSA ABLOY wall readers secure interior and exterior doors. A wide choice of card and token credentials helps users enjoy convenient access to, and movement around premises. Incedo mobile keys add the flexibility to open doors with a smartphone. Everything works seamlessly, as new Incedo-enabled hardware from ASSA ABLOY and third-party providers continues to be connected to the evolving ecosystem.
Nor is customers' chosen hardware and software configuration set in stone; they can change their mind as often as they like. Incedo guarantees flexibility and scalability in every direction, to meet security needs today and in the future.
"Incedo transforms the experience of using and managing a building," says Stephanie Ordan. "A future where doors are smarter, connectivity and movement are seamless and access management is genuinely intelligent. This is our vision for Incedo and for those who will use it."
Tailor-made solutions for different businesses and segments
The ecosystem approach brings adaptability. For example, because the security and operational challenges at a university, small hotel or hospital are not the same as those faced by a public building or corporate HQ
The first Incedo platform-based system — with the Incedo Business commercial interface —launched in markets including the UK, Benelux, Eastern Europe and the Middle East in 2020. Availability will expand across EMEA during 2021. Incedo's flexibility allows solutions to be tailored to regions, too. In Scandinavia, Incedo Open launched in 2020. It incorporates cloud-based management, so facility managers can access and amend security data whenever they need.
"Small and medium-sized businesses, or those serving the multi-residential housing block sector across Scandinavia, will find access control and security management much easier with Incedo Open," says Emma Petersson, Head of Business Management at ASSA ABLOY Opening Solutions Sweden. "Intelligent access control must adapt as your needs change or your business grows — and this is precisely what Incedo was built to do."
Any time, any place access management
In security and beyond, cloud services are booming. In a recent report, Forester forecasts 35% growth in the global market for public cloud infrastructure in 2021 alone. Over a third of end users surveyed for the Wireless Access Control Report 2021 now use cloud management for access control. Analyst firm Research & Markets forecast the demand for Access Control as a Service (ACaaS) will grow at 19.8% annually through 2027. Within that, the Hosted Service sector is expected to enjoy even faster growth: over 24% annually.
Yet cloud management can mean different things to different customers. "Survey data shows the way companies manage access control will continue to be a mixed picture, with both locally hosted and off-site cloud solutions or Access Control as a Service," says Russell Wagstaff, Platform Director, Digital and Access Solutions at ASSA ABLOY Opening Solutions EMEA. "This is why, when launching our Incedo ecosystem, we give users the choice."
The recent launch of the Incedo Business Cloud option solves a pressing problem for time-poor security managers: they no longer need to be on-site to handle day-to-day security. Incedo Business Cloud software operates securely 24/7 from any device with an internet connection. For customers, installing Incedo Business Cloud is easy, with no complex integrations. Software updates are regular and automatic; real-time reports and analytics are available with a few clicks. For any size of organisation, switching to Incedo Business Cloud implements powerful access control with low initial expenditure, ongoing cost efficiency and no hidden costs.
"A cloud software solution makes budgeting more predictable," says Kevin Hoare, Incedo Product Unit Director at ASSA ABLOY Opening Solutions EMEA. "It removes the need to hire additional in-house IT support and maintenance teams: you know ahead of time how much resource to allocate and can scale infrastructure up or down quickly."
The platform approach in action at Plexus
When Plexus — a UK fire and security specialist — sought an upgrade for their own headquarters' security, they drew up a list of criteria. A broad choice of wireless and wired door devices and readers was essential — as was a straightforward upgrade path for hardware and software. In addition, a new installation should offer the option to further scale — in any direction — in the future.
Their new Incedo Business system is now up and running. Installing wireless locks, readers and controllers from the ASSA ABLOY range was fast and simple, streamlining their upgrade. "Hardware architecture is well manufactured and this goes hand-in-hand with software that has fantastic ease of use," says Marcus Elphick, Plexus' Operations Director.
With keyless locking and Incedo Business management software, Plexus managers control exactly who goes where around their offices. They can set times when defined user groups may open specific doors. It keeps staff moving and safe without the hassle of physical keys.
The "new software has been seamless, much simpler and [with a] common sense approach to structure," says Marcus Elphick. Incedo Business software is intuitive to operate from any PC. The platform's flexibility allows Plexus to add more locks or change management software options whenever they need. They are already planning to extend control: remote sites, entrance gates and warehouse access control will be covered, too. "We have been so pleased with the system and its capabilities," he adds. Plexus aims to quickly adopt new Incedo Business Cloud, as it looks to expand security coverage to more sites.
"Incedo's system management options scale from entry level up to cloud-based administration," adds Kevin Hoare. "You can manage multiple sites and third-party integrations, including security solutions like CCTV. Scale up and down, add or remove hardware and credentials on demand — or switch system management options — all within your single environment. Migration between local and cloud management is always seamless in any direction, ensuring total flexibility for your business." Whatever the 2020s bring next, Incedo gives security the flexibility to adapt.
To learn more about Incedo Business and the evolving Incedo security management ecosystem, visit campaigns.assaabloyopeningsolutions.eu/incedo-business
This article was published in the May 2021 edition of International Security Journal. Pick up your FREE digital copy on the link here
Receive the latest breaking news straight to your inbox