Latest video tech highlighted by IDIS in Middle East and Africa virtual showcase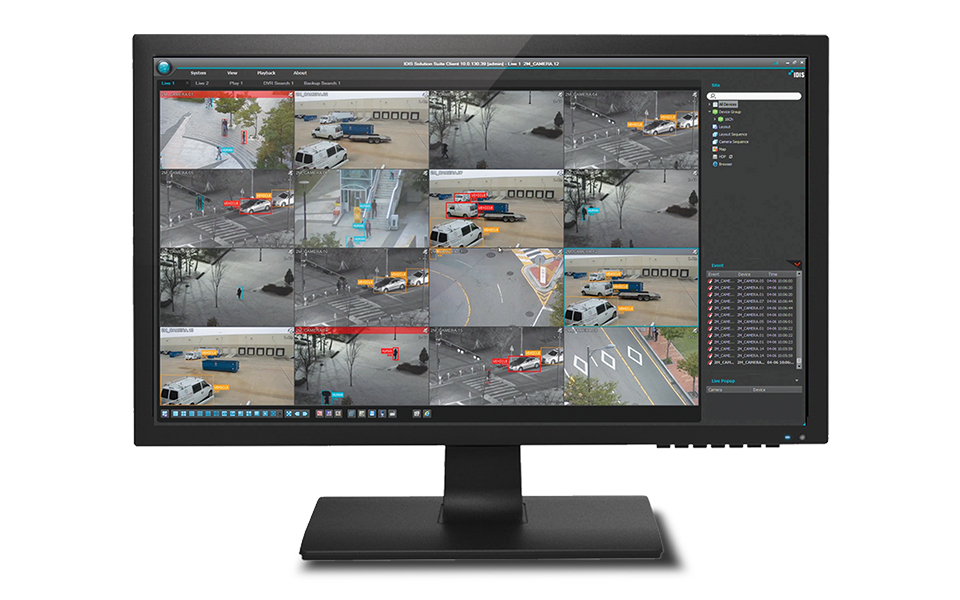 The latest video tech solutions for mission-critical applications in banking, education, logistics and grocery retail are being highlighted by IDIS in a new online Virtual Showcase.
The 'virtual booth' replicates the exhibition experience, taking visitors on a tour of the latest IDIS solutions, in particular its SAMA- and SIRA-compliant cameras, NVRs and video management software.
Leading Middle East systems integrators, consultants and end users are also being shown the soon to be launched IDIS AI Box for COVID-19 (DV-2232) appliance, designed to support safe return-to-workplace (RTW) and re-opening strategies for a range of industry sectors. It includes applications for social distancing adherence, people counting, occupancy monitoring, crowd control, face detection and reporting tools.
IDIS Virtual Showcase
Visitors to the virtual showcase are discovering the next generation IDIS Deep Learning Analytics, with 98% accurate AI-assisted notification for object, intrusion and loitering detection, as well as tools that leverage metadata to enable more reliable detection, better identification, easier verification and more rapid investigation of incidents.
And IDIS's new Mobile Plus app provides much needed help for customers on the move by putting the vital tools and functions of IDIS Solution Suite VMS directly into their hands, wherever they are and whenever they need them. IDIS Mobile Plus features an improved, more user-friendly interface with split screens and portrait modes, combining IDIS's existing mobile app with IDIS Solution Suite to improve remote management of single and multiple facilities. The virtual booth includes the latest cameras and software enhancements designed to solve the most urgent security and safety challenges, as well as risks specific to each sector.
A particular focus this year is on compliance-driven solutions, reflecting the growing adoption of IDIS technology in sectors such as banking, which are subject to the gold-standard Saudi Arabia Monetary Authority (SAMA) standards and stringent Security Industry Regulatory Agency (SIRA) requirements. IDIS video technology has already been deployed to protect more than 3,000 bank branches and ATMs for the National Commercial Bank in Saudi Arabia and was chosen to secure the Central Bank of Jordan. Both projects demonstrated the benefits of robust, cyber-secure technology with built-in failover and proved how compliance can be delivered at pace, even on a challenging scale in tough environments.
In the retail sector, Carrefour's recently reported expansion across the Middle East and its choice of IDIS video tech, is paving the way for further opportunities. The IDIS end-to-end solution for the sector now includes: the IDIS 2MP micro dome camera with an anti-IR reflection interior for discrete yet powerful surveillance; the 5MP Compact Super Fisheye, offering a low profile yet powerful 360° coverage, meaning lower equipment, installation and maintenance costs; and the enhanced DV-1104 VA in the Box which is a simple plug-and-play appliance that provides essential retail analytics including people counting, heat mapping, queue management as well as comprehensive reporting.
"Our new virtual showcase guides consultants, systems integrators and end users through the latest IDIS solutions for the most demanding applications," says Jamil Al Asfar, Senior Sales Manager, IDIS Middle East & Africa. "And although attendance at events and exhibitions in person is not currently possible, we are still pleased to be using new online platforms to connect with customers and showcase such exciting technology."
For a personalised tour of the IDIS Virtual Showcase email sales_ mena@idisglobal.com or call +971 4 501 5343. Or systems integrators, consultants and end users can attend simply by registering at https://www.idisglobal.com/exhibition/intro.
For more information on IDIS solution go to www.idisglobal.com.
Receive the latest breaking news straight to your inbox