Exclusive: Rethinking intelligent buildings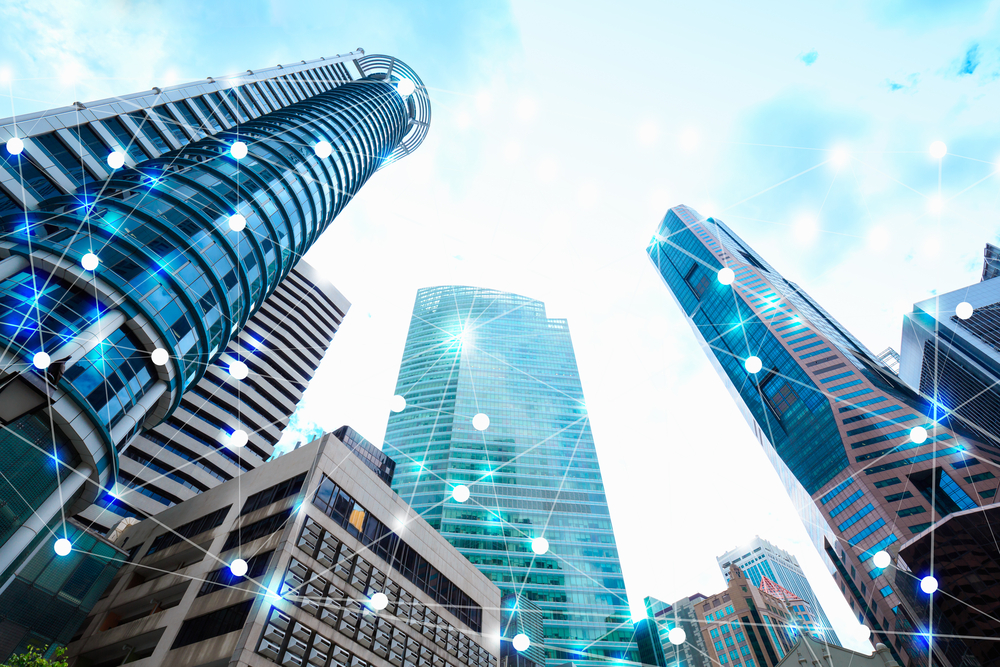 Oliver Iltisberger, President of ABB's Smart Buildings Division calls for a new approach to be taken to intelligent buildings.
In 2020, we stand at a crossroads, with the need to balance future socio and economic development with an urgency to protect our planet's resources and ensure its continued prosperity for future generations.
Half the world's population is now living in towns and cities, which currently account for 65% of global energy demand and 75% of global carbon dioxide emissions.
As a result, the global Smart Cities market is projected to grow to nearly US$3.5 trillion by 2026, driven by investment in everything from connected street lighting systems to intelligent security solutions and smart electrical grids.
In today's world, it is more important than ever that we aim to build cities that are truly sustainable, that have cleaner transportation, with more intelligent buildings and infrastructures that serve essential human needs such as security, comfort and connectivity.
A new approach to intelligent buildings
Recent times have highlighted the need to rethink how connected building systems can help to make our world safer and more secure, while supporting our aim to be more energy efficient and protective of our communities.
The Internet of Things (IoT) will be crucial to helping organisations to adapt to some of the new realities of life. Such technologies may hold even greater promise in helping communities adapt as economies reopen and demand on the grid increases.
We recognise how important effective power control is for critical services such as healthcare facilities, utilities and industrial and commercial buildings. In response to the challenges our customers are facing and to demonstrate our commitment to making sure that critical services can achieve greater operational stability and savings, ABB waived fees for all new subscriptions to its iUPSGuard remote monitoring and diagnostics software for uninterruptible power supplies (UPS) in hospitals and for all new or renewed subscriptions to its ABB Ability software-as-a-service (SaaS) solution for the rest of 2020.
Energy sufficiency and sustainability
In the near future, we expect to see stronger growth for connected cities and buildings, from smart buildings to smart mobility and smart infrastructure. There is no doubt that awareness of energy efficiency and sustainability will continue to spread, from communities and societies to our cities and the countryside. People will undoubtedly pay more attention to the impacts that their energy consumption will have on our planet and we as an industry will have to adapt.
When it comes to intelligent buildings, ABB is committed to a future where cities become smarter, with the opportunity for more home and building owners to harness and control their own energy usage.
Smart building technology has already helped many thousands of buildings and homes consume energy more efficiently. For example, intelligent and automated lighting, air-conditioning, heating and movement detection systems enable building owners to manage their power consumption.
Energy management systems also enable smarter and sustainable workspaces to lower their environmental impact. For example, a solution such as ABB Ability Electrical Distribution Control System uses cloud-based algorithms to monitor, optimise, predict and control a building's electrical system, removing inefficiencies and reducing energy bills by up to 10%.
We all know that buildings are complex systems, involving the circulation of air, water and electricity. The use of smart sensors helps to ensure these resources are delivered cleanly and efficiently. IoT based technologies can employ remotely operated sensors that help buildings maintain satisfactory levels of air quality and sanitation, which are key considerations as offices and shops reopen.
Connectivity
Our visions are focused on integrating a variety of systems and solutions infinitely to expand the possibilities for intelligently networked industrial, commercial and residential buildings. Greater use of IP technology gives us the ability to do just that; connecting home, work and life into one simple to use smartIP ecosystem.
But we're not just talking about integrating smart devices via IP technology. Open programming interfaces and the addition of software development kits make it possible to integrate third party applications, such as property management or messaging systems in the environment. At the same time, the use of centralised and decentralised control and installation options protect your system from unauthorised access through use of door communication, access control and video surveillance.
Connectivity is key to unleashing the true potential of intelligent buildings and taking security to new levels.
Taking security to new levels
With the growth of Smart Cities comes an inherent need for greater security, both for property and individuals. As we become more connected, we also become more vulnerable to the threat of security breaches and invasions.
As a result, intelligent buildings of the future will have to be secure without compromising the comfort and enjoyment of their users. We're not talking about creating 'fortresses' here but about creating behind the scenes security solutions that help to ensure that we all feel safe when we are at home, at work or at play.
The use of IoT enabled tools, such as presence simulation, motion detection and remote video access will put greater control back in the hands of the user. Holistic door entry systems now offer easy commissioning and usage for enhanced security and communication. They provide interaction between door entry, access control and video surveillance so that distance in buildings is now only a matter of IP connectivity. For example, our latest system can manage 900 connected buildings with up to 2,000 apartments or office spaces per building, which is practically close to unlimited.
For greater visibility, video surveillance systems work with different cameras to stream videos 24 hours a day, seven days a week and footage is accessible from anywhere in the world, so that security can be effectively managed. Videos can be stored on the local Network Video Recorder (NVR) or in the cloud.
Tools such as ABB-AccessControl allow doors to become even smarter. The embedded RFID chip allows doors to open remotely, via an app or even automatically according to time settings, so that they can be programmed to open when employees start work and close at the end of a shift. A comprehensive access rights management, together with time profiles and logging information make solutions like this ideal for the intelligent buildings of the future.
Solutions such as key fobs with maximum security encryption technology make duplication impossible and deliver maximum security. Plus, real-time cancellation to a lost or stolen key fob from management software, ensures the door is secured at all times. In addition, the use of encrypted radio frequency communication to transfer information from the key cylinder to the Smart Access Point further improves security.
Security technology monitors the building and warns of unauthorised entry while looking after the wellbeing of legitimate occupants. Current systems can provide total solutions for safety, with a system to supervise safe building evacuation, emergency call stations along with detection alarms for water, smoke and gas leaks.
The latest IoT enabled emergency lighting is designed to offer total solutions for safe evacuation in case of an emergency or fire for all buildings from offices, to hotel, schools, hospitals, stadiums and train stations. It drives greater security for intelligent buildings and gives a more holistic approach while reducing total cost of ownership throughout the building life cycle.
The addition of solutions such as the MyBuildings portal powered by ABB Ability provide a completely secure area for the management of services, putting greater control back in the hands of the building manager or owner.
Broader integration
Another trend on our Smart City journey will see the wider integration of smart building technology with third party applications. To support this evolution, ABB launched its open API platform in 2019, opening up its building automation systems such as its ABB-free@home solution to greater customisation with third party applications such as Amazon Alexa, home appliances, Hey Google, Sonos and Signify.
This allows for greater possibilities in intelligent building security and makes it easier to create our connected spaces of the future.
Conclusion
Our new focus should not be limited to Smart Cities. It is important that we also take into consideration the crucial role that smart industry, regional infrastructure and settlements play in building the societies of today and of the future. Keeping us safe and secure is a major element on our journey to creating Smart Cities that are in tune with the needs of its occupants.
This article was published in the August 2020 edition of International Security Journal. Pick up your FREE digital copy on the link here
Receive the latest breaking news straight to your inbox