Exclusive: Digital twin technology to revolutionise mission critical operations
As technologies continue to evolve at a rapid pace around the world, digital twin has emerged as a promising tool in using real-time data visualisation with simulation and machine learning to help decision-making processes, for all vertical markets and at all levels of the supply chain.
The technology functions as a virtual representation of the real world, including physical objects, processes, resources, relationships and behaviours. Geospatial technology creates digital twins of the natural and built environments and uniquely integrates many types of digital models. As a result, it connects different types of data and systems to create a single view that can be accessed throughout the complete project life cycle. By enhancing data capture and integration and enabling improved real-time visualisation, digital twin provides advanced analysis and automation of process workflows and allows for actionable information sharing and collaboration.
"Our world is transforming and rapidly becoming digital," said Sohail Elabd, Director of International Business Development and MEA at the Environmental Systems Research Institute (Esri), where they create digital twins of the natural and built environments, abstracting and modeling everything to improve business processes, reduce risk, optimise operational efficiencies and enhance decision-making with automation to predict outcomes. "Digital twins provide greater context to solve business challenges by creating relationships and streamlining workflows. Geographic Information System (GIS) technology is foundational for any digital twin – Esri's geospatial technology interconnects information, systems, models and behaviours with spatial context, creating holistic digital representations of environments, assets, networks and cities."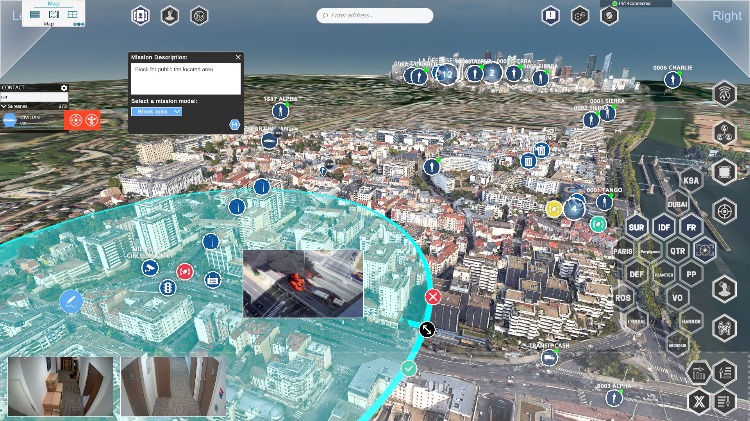 Rapid growth
And the market of digital twin is expected to expand fast. Valued at US$3.1 billion last year, it is forecast to grow to US$48.2 billion by 2026, according to a report on the digital twin market by Markets and Markets. By merging the worlds of the Internet of Things (IoT), Artificial Intelligence (AI) and data analytics, an array of opportunities have emerged for smart cities, airports, ports, transportation and utilities. From urban planning to land-use optimisation, digital twins can simulate plans before taking them into action, which allows for early detection of potential issues. Within airports, decisions can also be taken faster and more efficient using a proper data model, open integration platforms and real time Command & Control (C2) capabilities to optimise their operations, despite complex IT ecosystem and process workflow, multiple stakeholders and an ever-changing environment.
And companies are following suit. French security tech start-up, Obvious Technologies, has picked up on digital twin and leveraged the potential of open-source integration for safety and security applications and missions, further disrupting extremely traditional and old-fashioned PSIM markets to propose a comprehensive C2 solution suite.
By enabling efficient planning and real-time response capabilities for special events, daily incidents and major crises for all sectors – in which time is of the essence, the firm has brought an innovative approach and platform through its advanced software suite 'OODA' (Observe, Orient, Decide, Act). Leveraging 3D Data Visualization and digital twin technologies, it is equipped with a powerful Big Data analytics engine and AI applications to public and private organisations looking to secure mission-critical facilities, processes and events. "Data is now everywhere," said Naoufal El Ouali, Executive VP at Obvious Technologies. "The challenge is now about compiling and fusing multi-source data, indexing them and once correlated, to transform them into actionable intelligence, to be displayed on an intuitive human machine interface. Mature customers in Middle East are used to getting realistic 3D models and experiencing an immersive display of their environment and ecosystem, so it makes sense for us to keep up with such changing times."
He spoke of digital twin as opening the path to a better global situational awareness, as well as KPI monitoring and advanced AI, simulation, prediction and scheduling capabilities. "What we do, whatever the vertical market we serve, is to bring tangible solutions to our customers' pain points on how to increase their services' efficiency and performance with more data, fewer people and less time than ever. It is not just about informing but also about automating workflows and processes on FM and operations for airports, for instance," El Ouali added. "This will allow, in turn, to replace paper checklists, radio communications and other means, in order to act faster and collect more information to enhance decision-making processes for planning, real-time and training purposes. Digital twin is truly the next generation enabler for an Intelligent Operational Centre (IOC), the brain at the heart of the decision making process."
Trusted data
In today's highly digitally connected world, digital twin has a vital role to play in dashboards, workflows and ensuring decision-making is based on accurate and trusted data within the required timeline. Within cities, countries and regions, it can allow for critical sharing of that data, coming from different sensors, to be analysed and ensure precise predictions. As data increasingly becomes more integrated within a building or a smart city, performance levels of a specific asset drastically improve. As a result, asset managers become responsible for both the physical and digital assets and will, in turn, work with IT managers to govern its data.
"At Buro Happold, we have observed that those organisations which design their organisational model so that digital twinning is properly integrated into the rest of the business, including leasing, operations, facilities management, design, project and construction management, stand the greatest chance of using digital twinning to create value for the organisation," said Alain Waha, Chief Technology Officer at Buro Happold. "In practice, the digital twinning philosophy and goals need to cut across the entire suite of business verticals and the organisational structure needs to be designed and operated as such. Within this, choosing the right leader is key, as this person needs to have credibility and influence across the entire organisation, if the digital twin strategy roadmap is to be fully delivered."
Digital twins are set to redefine leadership as we know it, performing tasks at a pace that is lightyears ahead of what humans can accomplish. In that regard, leaders are expected to provide direction to the technology, which can then conduct in-depth research across countless data sets and free up valuable time for those in charge. Within that context, digital twins are projected to drastically disrupt the role of a leader, placing emphasis on the importance of the person in charge and multiple stakeholders' coordination.
And the UAE has been quick in adopting the practice, with Dubai standing at the forefront of worldwide projects, starting with the Dubai Digital Authority which groups related organisations within the emirate. In line with building a more sustainable and smarter city, Dubai has worked on developing a digital twin in the form of 2D and 3D maps of the emirates' assets, landmarks and structures using GIS. Increasingly, the smart cities of tomorrow are being set to be built on smart insights and infrastructure from digital twin, IoT and a boundless data source – a key focus for the GCC.
Eng. Arif Aljanahi Mohammad, Director of Security Engineering at the Security Industry Regulatory Agency (SIRA) in UAE, highlighted the importance of data ownership and privacy issues when discussing the smart cities, regions and countries of the future. "Within this context, data is expected to ensure improved decision-making around planning and allocating resources," he explained. "As governments around the world continue to shift towards a more open data and information landscape, the ownership and control over that data will have to be determined accordingly. Any successful digital twin project needs increased cohesiveness across the board to ensure all the required pieces remain connected through a single dedicated leadership, which Dubai is focusing on today – this will also allow for enhanced security, analytics and tracking within the project."
As cities across the Gulf continuously strive to become smarter and with the smart cities market expected to grow from US$410.8 billion in 2020 to US$820.7 billion by 2025, according to research by Markets and Markets, momentum is gradually building across the board into concrete action.
As global market research firm IDC predicts that by 2023, 25% of successful smart city digital twin platforms will be used to automate processes for increasingly complex, interconnected ecosystems of assets and products, the future of smart cities truly lies in the hands of such technologies and the capacity to set up the relevant framework, steps and key indicators and success factors, to implement tangible applications and tools to create, display and share actionable intelligence that can serve decision makers to deliver their vision.
Receive the latest breaking news straight to your inbox