Exclusive: Gallagher celebrates continued growth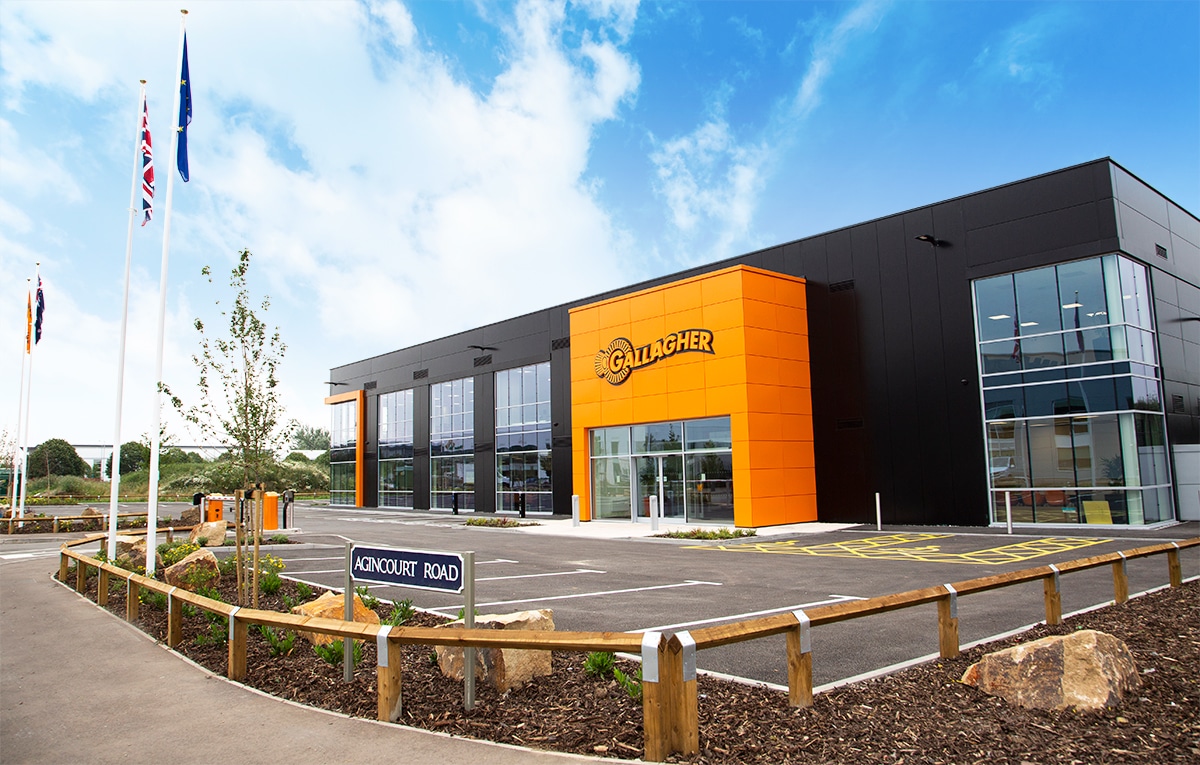 At a time when most businesses are being extremely cautious with investment, Gallagher, a manufacturer in security technology, has officially moved into its new European Headquarters.
Gallagher's Richard Huison, Regional General Manager for UK and Europe and Mark Junge, Global General Manager for Security, celebrate the company's new European HQ and share what this means for Gallagher's continued growth in the Northern Hemisphere.
Gallagher's new European Headquarters
Back in August last year, Gallagher proudly announced the development of its new European Headquarters in Warwick, United Kingdom. A 'breaking ground' ceremony was then held in September and finally, at the end of June 2021, the team moved in!
The journey started before Richard Huison took on the role as Regional General Manager for UK and Europe at the beginning of 2019. "We've experienced rapid growth in recent years and fast outgrew our current premises. Our new home in Warwick provides endless possibilities, with a beautiful open plan office to meet and network with our business partners," said Richard.
The 1,500 square metre (16,145sq ft) HQ, allows Gallagher to host prospective clients, hold large events and better support Channel Partners and customers with meeting, conference and training facilities. The HQ also includes a 670 square metre (7,211sq ft) warehouse, to streamline UK and Europe operations and deliver greater efficiency to support a heightened demand for Gallagher's solutions.
"Our new UK home really indicates how much Gallagher is growing internationally. When you talk about scaling for the future, most people think three to five years in advance, but Gallagher is looking far beyond that. We have the next 20 to 30 years in our sight."
Gallagher now operates offices and warehouses in ten countries across the globe, with more than 1,300 Gallagher employees based throughout the world.
"For now, our new UK home provides plenty of space to operate efficiently, however if I look to the future, I am confident that we will be at capacity within the next five to seven years," Richard adds.
This long-term view is exactly why Gallagher has safeguarded more land, behind the building, for future expansions.
Mark Junge, Global General Manager for Security explains an important part of Gallagher's strategic growth includes scaling its global physical premises.
"We needed to greatly increase our office and warehouse facilities so that our team can continue to grow and our customers can see, first-hand, how Gallagher protects what matters most," says Mark.
"Gallagher aims to be the security solution of choice for countries in the Five Eyes alliance. With discussions well underway with several UK government agencies and some significant recent successes with several of our high security customers in the UK, this new facility provides the ideal base to support our extensive growth plans for the region.
"This new premises will give us even greater scope to showcase our world-class technology, host events and support our Channel, consultant and customer network across the UK and Europe," Mark adds.
Growing into Europe
Richard explains how the new facility enables Gallagher to be better positioned from an operational perspective and provide a superior customer experience to support its growing client base throughout Europe.
"As we progress beyond Brexit and COVID-19, we're excited to expand further into Europe. And for now, I know we have the expertise and resource to manage the needs of our European customers from our Warwick HQ," said Richard.
"Many of our customers have global operations that spread across the US, Europe and the Pacific – so growing our European team is a natural continuation of our global expansion."
Linking the Northern Hemisphere
Mark explains it is in Gallagher's DNA to discover, design and deliver customer inspired solutions to redefine what is possible.
"Earlier this year, we continued the rapid growth of our United States based team – and they achieved a huge milestone with the hire of their 100th employee. Six months on, it's great to see our new team members have significantly increased support for Gallagher's integrator network and customer base across the Americas.
"We have ultimately grown the US team, so we can cover the addressable market in North America," said Mark.
Richard adds: "That's great news for us, as many of those large global businesses naturally extend across the water into the UK and mainland Europe. With our northern network growing at a furious pace, we need to be prepared to service international customers, with HQs and operations facilities located on both sides of the pond."
Mark agrees that the new European HQ provides the platform to support Gallagher's growth and adds that the company is covering many key verticals and customers around the globe.
"Gallagher is an iconic Kiwi company and we will continue to expand our presence around the world. In the north, we are building a strong network from North America and Canada to the UK and Europe, right through to India, the Middle East and Asia. In the Southern Hemisphere we have our offices in Chile, South Africa, Australia and New Zealand.
"With our business expanding rapidly, we made the right decision to further invest in the UK. We're excited about the opportunities here," said Mark.
Protecting people and assets
When asked, 'What's Gallagher's why?', Richard responded: "It's ensuring that people get home safely at night. Some of the world's most critical sites trust Gallagher to protect their sensitive assets. You just have to look at the impact we have across the UK's national infrastructure. I like to think that we are playing an integral part in keeping the lights on.
"That's our why, that's why this new HQ matters. It enables us to keep growing, so we can continue to provide a safe and assured future through the protection of people, places and assets," Richard concludes.
Receive the latest breaking news straight to your inbox