Boosting quality with intelligent manufacturing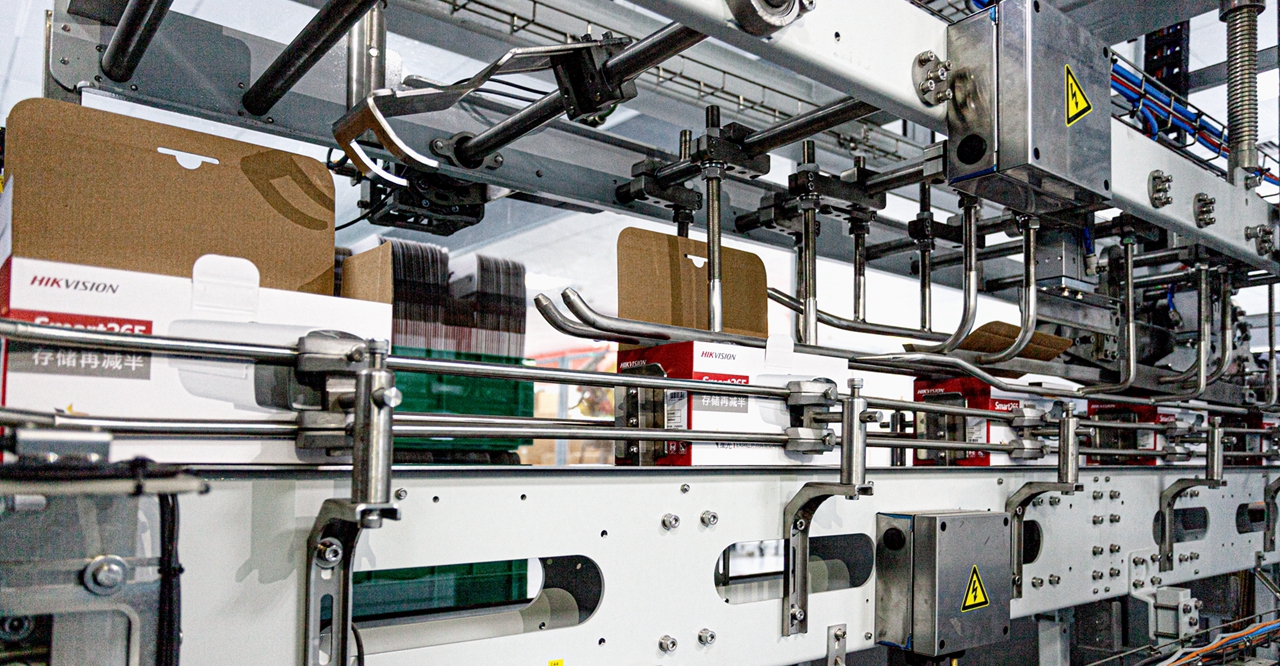 When it comes to performing repetitive product assembly and testing tasks, there's no substitute for an intelligent well-designed and well-maintained machine. If you have multiple intelligent machines that are connected, you can start doing 'intelligent manufacturing'. This brings major efficiency gains through automation, but it also makes it possible to standardise production processes, eliminate errors and create products that are great quality every time.
How Hikvision boosts quality with intelligent manufacturing
To make sure its product quality is consistently excellent, Hikvision has implemented intelligent manufacturing infrastructure at its production facilities. In China, the company is running two manufacturing hubs in Hangzhou and Chongqing, which span more than one million square metres. Both of them have a full range of automated production processes, from intake of materials and components, to product assembly, testing and warehousing and logistics. With the help of automation, Hikvision has achieved a manufacturing output annual capacity of more than 100 million units.
Key elements of the intelligent manufacturing infrastructure and strategy include:
Our intelligent SMT capabilities
For most of our products, we use automated machines to create our components and motherboards in the dedicated factories. To ensure consistently excellent quality, we have brought in a range of globally sourced equipment, including automatic surface mounted technology (SMT) machines, reflow solder machines, optical detectors, automatic testing machines and more.
Our intelligent product assembly lines
Our assembly lines use automated machines to conduct a wide range of tasks, from structural locking and barcode label printing, to product labelling and 'airtightness' testing. Operators can set parameters for different product runs with a single click of a mouse, ensuring that multiple products can be manufactured quickly and easily on the same lines – all to the highest quality standards.
Our intelligent product testing processes
Once products have been assembled, we use automated machines to test their quality and robustness. One of our tests uses automated power supply systems to artificially 'age' products to ensure they meet the highest standards of reliability and durability. All test data is automatically uploaded to our management systems for analysis, constantly tracking and improving quality for our customers.
Our intelligent packaging and warehouse logistics processes
In terms of packaging, factory staff only need to place boxes on the production line and the rest happens automatically. Fully packed products are then loaded onto pallets automatically by specialised robots and directed to their designated storage locations by our centralised warehousing system. As well as reducing labour costs, our automated processes ensure that the right products are available in the right locations to fulfil our customers' orders on time.
Why great manufacturing processes mean great products
The end result of our intelligent manufacturing approach is that quality is assured at all stages of the journey. This results in an extremely low rate of manufacturing, testing and packaging faults, giving our customers excellent quality products every time.
To find out more about our intelligent manufacturing capabilities and to discover how it fits within our wider quality strategy, read our whitepaper. You can also get in touch to discuss your security needs and we'll help design a top-quality solution for your business.
Receive the latest breaking news straight to your inbox