Exclusive: The Astrophysics family legacy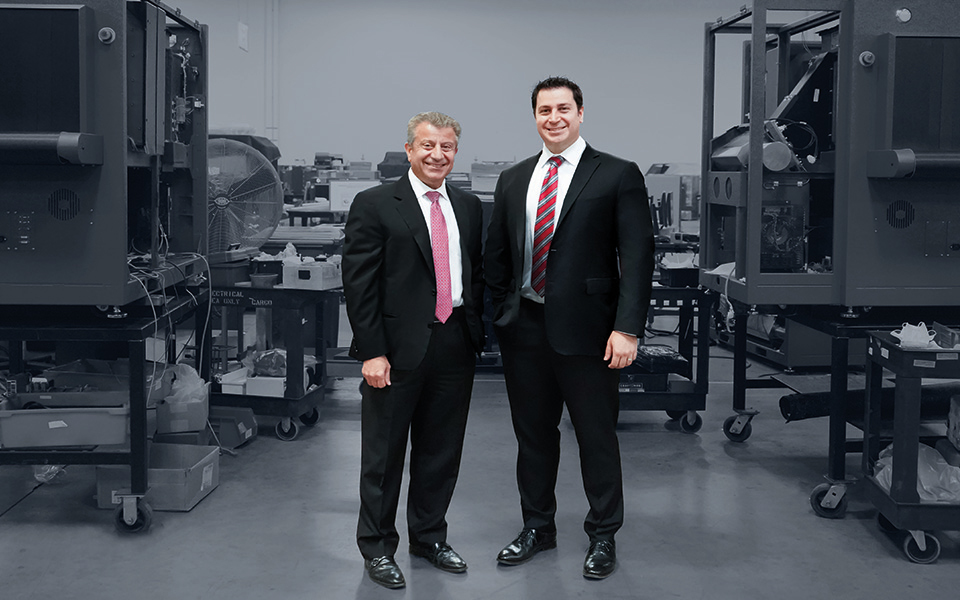 François and Mark Zayek of Astrophysics, Inc. sit down with International Security Journal to discuss what makes the company unique.
Astrophysics, Inc. is more than a security company – they are innovators. For nearly 20 years, Astrophysics has been a leader in x-ray research and development, turning imaging theories into reality with robust and reliable x-ray security systems. Designed and assembled in the United States, more than 35,000 Astrophysics systems are deployed in over 150 countries, protecting critical infrastructure, aviation and ports and borders. Committed to world-class customer service, Astrophysics' global network of 1000+ certified Field Service personnel ensure products operate at optimal peak performance. Its superior imaging technology and relentless R&D culture have made Astrophysics the global brand of choice for x-ray security.
Astrophysics' American ties go beyond its US headquarters and offices; the company's legacy is tightly linked to the American Dream and strong family values. Astrophysics CEO, François Zayek is the embodiment of that American Dream. Born and raised in Beirut, Lebanon, he upholds American ideals and leverages his knowledge and courageous spirit to advance x-ray security technology. In 2015, he was honoured with the prestigious Ellis Island Medal of Honor, exemplifying his achievement of the American dream with his success and passion for R&D excellence. That strong family legacy continues to define Astrophysics' culture with his son, COO, Mark Zayek. Entering his second decade with the company, Mark's comprehensive industry and product knowledge directs business operations to new heights while positioning the company for continued future success.
International Security Journal caught up with François and Mark to find out more about Astrophysics, Inc.
Let's start at the beginning. How was Astrophysics founded?
FZ: I've spent more than 30 years specialising in x-ray imaging. My background is in Electrical Engineering with an emphasis in electromagnetics and optics. I worked as VP of R&D in medical x-ray imaging before I started my own R&D consulting firm and later was inspired to found Astrophysics. I recognised there was a gap between medical and security technology. Medical imaging was advancing faster than security imaging and I wanted x-ray security scanners to have the same focus on R&D and innovation. I believed a security company focused on R&D could revolutionise the x-ray security industry and make an impact on the world. When I started the business, I took a leap of faith. Now, after almost twenty years, we are a leader in the x-ray security industry.
What sets Astrophysics apart from its competitors and makes it "the best kept secret" in the industry?
FZ: Our two biggest differentiators are our x-ray R&D expertise and our strategic approach to the business. First, we specialise solely in x-ray. Our R&D pushes the physics, the science and the innovation of x-ray technology. We are perfectionists and push ourselves to develop the best imaging available in the market.
We set the bar – the standard – in x-ray security. Astrophysics has a proud legacy of x-ray industry firsts. We were the first to introduce features like 6-Colour Imaging and Real-Time Diagnostics, among others, which are now industry standards.
Astrophysics' passion for R&D has led us to develop the industry's best x-ray imaging software to identify threats and safeguard communities around the world. Our passion for R&D has enabled us to create one-of-a kind solutions for every security need. If a competitor says it cannot be done, we can do it. More than 50% of our products are custom made-to-order. We offer our x-ray expertise, our R&D innovation and our ability to customise products and solutions that fit every security mission.
MZ: Our second differentiator is our long-term strategic approach. We are a privately owned, US company. Most of our competitors are public companies. Our competitors' true products are profits for their shareholders. At the end of the day, short-term profits are what drives them. In contrast, Astrophysics is customer-centric. We don't see customers as profit opportunities, we see customers as partners. We strive to develop long-term partnerships by serving customer needs, providing incredible value and a world-class customer service experience. We focus on providing solutions and creating stable, controlled and sustainable long term growth.
How would you describe the Astrophysics company culture?
FZ: Astrophysics employees are considered part of the Astrophysics family. The first five employees I hired nearly twenty years ago have grown with the company and still work with us now (even some of their children work with us!). My own children, including my son Mark, have grown up with the company and continue the Astrophysics legacy. For us, the Astrophysics family is what drives our success. We promote a family culture with work-life balance. For most of us at Astrophysics this is not just a job – it is a family.
MZ: We have more than 400 employees worldwide, but we truly are a family, united by a shared set of values and a culture that fosters innovation, inclusion, diversity and development. Our Astrophysics core values are respect, integrity, teamwork and loyalty and we live by them daily. We maintain a culture that reflects those values in a way that best serves our employees and our customers. We believe in our products, our technology and our mission. Our Astrophysics family brings all of this to life.
What advice would you give to a new customer looking to purchase their first x-ray scanner?
MZ: At Astrophysics, our goal is to help customers find the right solution for their security mission. Generally, first-time buyers should consider five key elements when buying an x-ray scanner: tunnel size, generator power, image quality, service and total cost of ownership.
We encourage customers to contact Astrophysics directly so our experts can work one-on-one to walk them through the process and learn about their specific security needs. Again, more than 50% of our products are customised and made-to-order which speaks to our dedication to identify and customise the right product for each customer, all with incredible lead times and quality.
What do you perceive as an emerging threat in the x-ray industry?
MZ: Over the last decade Chinese brands have entered the x-ray market, subsidised by the Chinese government and often selling at low (sometimes below cost) prices. Although these scanners can initially appear attractive low-cost alternatives, we would highly recommend and advise customers to look closely, beyond the sales brochure, regarding both product quality, service support and of course, the current public and governmental debate about the potential for sensitive data to be shared with the Chinese government.
Recently, international security experts and the mainstream media have raised concerns about the increasing Chinese security threat. Heightened awareness of questionable operations by Chinese organisations have even led some governments and security officials to recommend against the use of Chinese security brands.
FZ: As a solution to this industry threat and customer concern, Astrophysics products operate via a closed loop network. All Astrophysics product images and data are saved directly onto the machine, or on a server via the Astrophysics Management System (AMS). For customers that desire no internet connectivity and zero risk of cyber-attack, the AMS operates on a closed loop network that gives customers complete control over data access and management.
Upon customer request, the AMS can provide an encrypted cloud-based storage centre, only accessible by specific authorised servers with coordinated decryption software. We take our customer's security missions and privacy seriously and protect sensitive customer data. As an American company with core values – including integrity – we pride ourselves on having built a respected reputation for ethical business practices.
How does Astrophysics deliver on its promise of "Tomorrow's Technology for Today's Security"?
FZ: Customers have called us "the best kept secret" in x-ray security and this year the secret is out. We have the finest technology in the marketplace and we remain focused on R&D to continue driving advancements in x-ray security.
At our core, we are an R&D company. We recently introduced the Multi-View CT 450kV – a disruptive technology, unlike anything the industry has ever seen. A combination of multi-view x-rays and 3D computed tomography (CT), the MVCT creates 360° views of cargo pallets. With a 450kV generator, it boasts twice the power and four times the speed of traditional cargo scanners, allowing operators to identify hidden threats without breaking bulk. The MVCT will transform the air cargo industry.
The first MVCT was deployed at JFK airport in New York over a year ago with great success and is currently pending TSA qualification. Expanding on our revolutionary Multi-View CT 450kV technology, Astrophysics was recently awarded funding by the US Department of Homeland Security Science and Technology Directorate to develop and build the Multi-View CT 200kV. The Multi-View CT 200kV offers the same technology with a lower powered and more cost effective generator for wider commercial application.
We are also partnering with the US Customs and Border Protection on land port of entry primary lane inspections with our HXC-LaneScan car scanner. The Astrophysics HXC-LaneScan is a compact 12 foot design that fits in standard traffic lanes. The HXC-LaneScan provides unrivalled image quality and resolution – to the point analysts can see individual bullets in the magazine of the gun. The HXC-LaneScan has the most impressive x-ray imaging capabilities in the industry.
MZ: Next we are introducing our latest innovation, the VI3D. This next generation checkpoint technology provides three distinct viewing angles with our exclusive 3D MotionView software to create a real-time "rocking image" for greater depth perception. Combined with our Enhanced Imaging software, the VI3D provides unparalleled imaging to eliminate blind spots and heighten threat detection. We are excited to share this latest innovation with the world. Astrophysics is committed to delivering the ultimate in imaging detection today, tomorrow and always.
As the world faces an unprecedented convergence of a global health crisis, extremism, violence and instability, Astrophysics continues to deliver comprehensive solutions that ensure the safety and security of global communities. As an American family company, Astrophysics' legacy of shared values, industry-first R&D innovations and solutions-focused customer approach have propelled them as a leader in x-ray screening technology. The company is well positioned to continue to break barriers in technology and further solidify its position as the unquestionable leader in global x-ray security.
This article was published in the November 2020 edition of International Security Journal. Pick up your FREE digital copy here
Receive the latest breaking news straight to your inbox